DTL OTMaster (OTM), is a highly sophisticated application for reviewing, editing and altering tables and contours of fonts with a snft file structure, as there are CFF and TTF flavored OpenType fonts, TrueType fonts and TrueType Collection fonts.
Font editors
, like for instance the
DTL FontMaster
suite, FontLab Studio and FontForge, rely on their own proprietary data formats for type design and font production. From these data,
binary fonts
for the end-user are compiled as the last step in the font production process.
OTM is a tool for inspecting and adjusting such binary fonts, irrespective of the font editor used for their creation.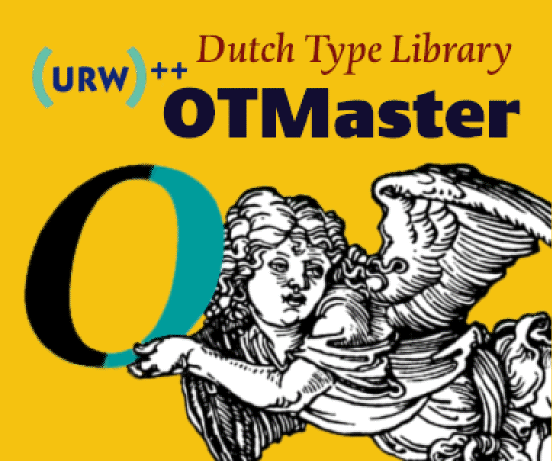 OTM makes the editing of tables possible from a graphical user interface. Furthermore, it comes with built-in tools like the Glyph Editor for proofing and editing contours or even drawing glyphs from scratch. A 'kern' table viewer is available for proofing and refining the kerning, and a 'GSUB'/'GPOS' viewer to visually test (and in case of 'GPOS' also adjust) these OpenType Layout tables.
One of the most remarkable functions in OTM, is the option to import and export OpenType Layout features files. During import OTM compiles the OpenType Layout features with the AFDKO (Adobe Font Development Kit for OpenType) syntax and produces binary OpenType Layout tables.
OTM
contains the modified URW++ version of Adobe's
Hatch Open Type
(HOT) tool, which is also part of
DTL BezierMaster
,
DataMaster
, and
IkarusMaster
. This means that the
character set
does not have to match the characters listed in the OpenType Layout features file, because all features that are not covered by the character set will be removed
automatically
during compiling. This makes it also a great tool for
updating
and standardizing fonts.

OTM is available for Mac OS X, Windows and Linux. Free 'Light' versions are available from the download page on this site. The downloads also contain the OTM manual, written and designed by Karsten Luecke, in PDF format.

Since OTM is based on the latest version (2.5) of the AFDKO, it supports the 'GPOS' mark features. The mark to base, mark to mark and mark to ligature positions can be displayed. Also (some of) the 'GPOS' features can be edited, like mark, mkmk, kern, palt, vpal, et cetera. One can import and export AFDKO-syntaxed feature files for 'GPOS', 'GSUB', 'GDEF', and 'BASE' in OTM. The program has extensive support for CJK, including for fonts with a very large number of glyphs. It handles CJK-related things, such as 'name' table strings, IVSes in the 'cmap' table, et cetera, very well.